Sustainability: Our Purposeful Transformation Continues
We have previously announced Our Purposeful Transformation with the aim of formally adopting an Environment Social & Governance (ESG) program for URC. To support this, we have embedded Sustainability as one of our key strategic thrust anchored on our People & Planet Friendly Culture strategy. We have identified key material impacts we can target in the Natural Resources, People, Products, Supply Chain, and Economic areas. After months of baselining, we have officially announced our Sustainability targets and commitments for the first three areas which are aligned to the 2030 UN Sustainable Development Goals as follows: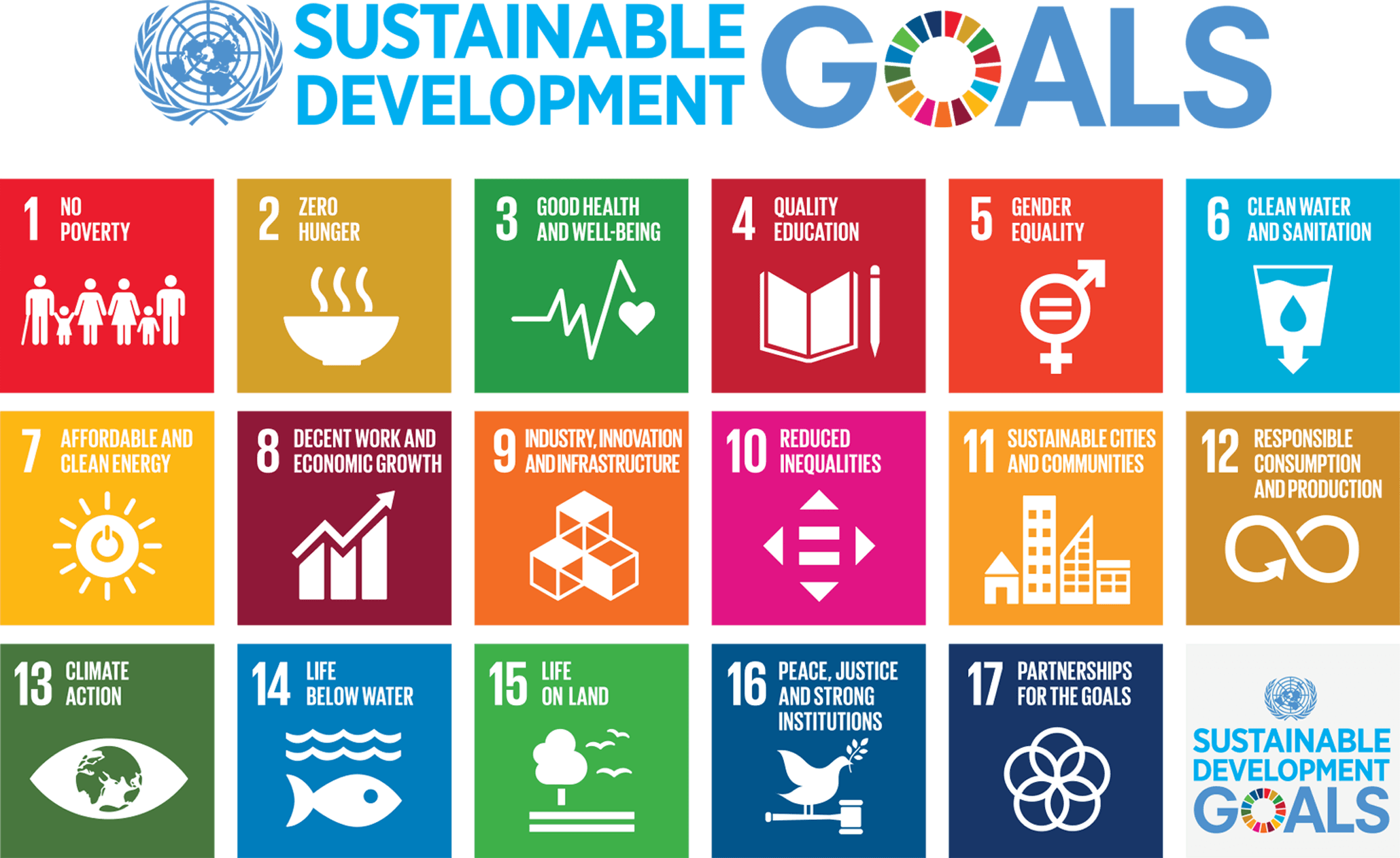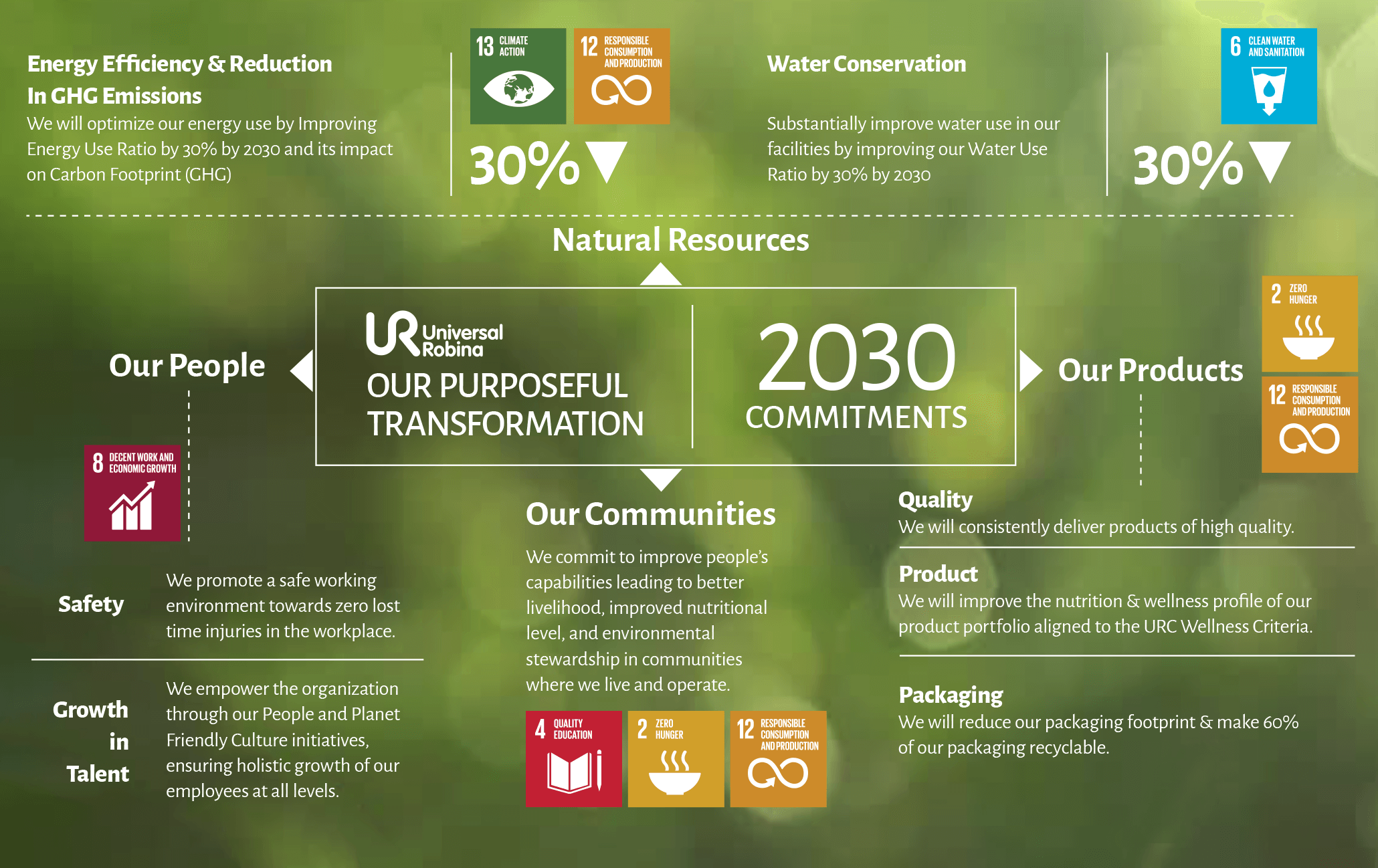 1. For Natural Resources
a) ENERGY: Optimize Energy Use Ratio by 30 % by 2030 along with its impact on Carbon Footprint.
b) WATER: Substantially improve water use in our facilities by improving our Water Use Ratio by 30%, by 2030.
These commitments will be aligned to SDGs 13 (Climate Action), 12 (Responsible Consumption and Production), and 6 (Clean Water and Sanitation).
2. Our People
a) EMPLOYEES
We promote a safe working environment towards zero lost time injuries in the workplace.
We empower the organization through our People & Planet Friendly Culture initiatives, ensuring holistic growth of our employees at all levels.
This will be aligned to SDG 8 (Decent Work and Economic Growth).
b) COMMUNITIES
We commit to improve people's capabilities leading to better livelihood through education, improved nutritional level, and environmental stewardship in communities where we live and operate.
Our community engagement initiatives will be aligned to SDGs 4 (Quality Education), 2 (Zero Hunger), and 12 (Responsible Consumption and Production).
3. Our Products
a) QUALITY: We will consistently deliver products of high quality as we ensure that our processes will always be aligned to the best-in-class standards.
b) PORTFOLIO: We will improve the nutrition & wellness profile of our product portfolio aligned to the URC Wellness Criteria.
c) PACKAGING: We will reduce our packaging footprint and make 60% of our packaging recyclable.
Our product commitments will contribute to SDGs 2 (Zero Hunger) and 12 (Responsible Consumption and Production).
We will be providing more details about our commitments and baseline in our second sustainability report that will be released on the second half of this year.
---
Corporate Social Responsibility
Our CSR Programs in CY2018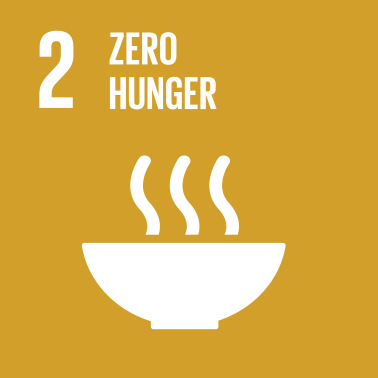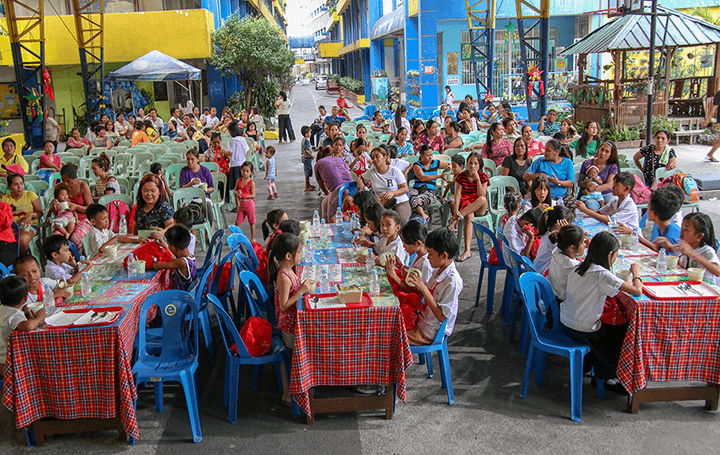 Hidden Hunger Activity
URC launched the Hidden Hunger project with several partner schools last July 2018. The goal is to address malnutrition amongst the country's youth. The project promotes the use of Budbod Sustansya, a vegetable-based meal additive developed by Molave Foundation that includes nutrients such as Vitamin A, iron, and zinc. Budbod Sustansya is sprinkled on top of rice meals served to students during school feeding programs, providing them with the recommended daily amount of nutrients. Volunteers from URC, partner school teachers, and parents work together in preparing healthier meals, thus building stronger community relations while fighting Hidden Hunger.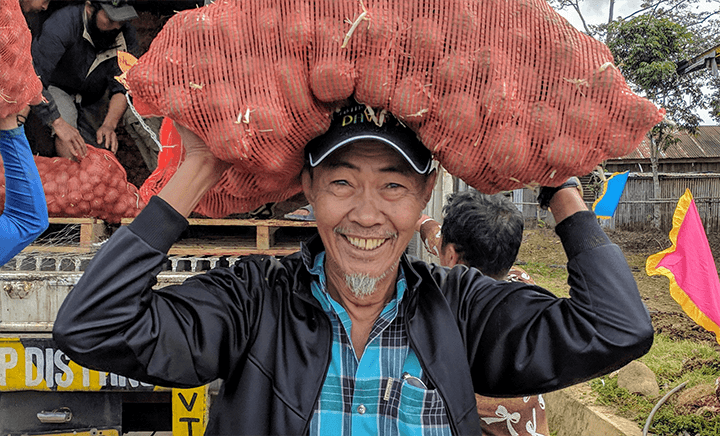 Sustainable Potato Program
URC's Sustainable Potato Program aims to support local potato farmers by helping increase their annual yield and scale-up productivity. By partnering with the Department of Agriculture, the program supports the department's initiative of enhancing the competitiveness of the local potato industry. URC will be providing high quality imported Granola potato seeds from Canada, as farm inputs to select potato farming communities from the provinces of Benguet, Mt. Province, Bukidnon and Davao del Sur. These seeds will be donated to the farmer cooperatives and will serve as initial funding for the program.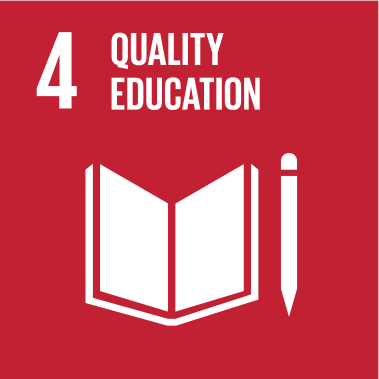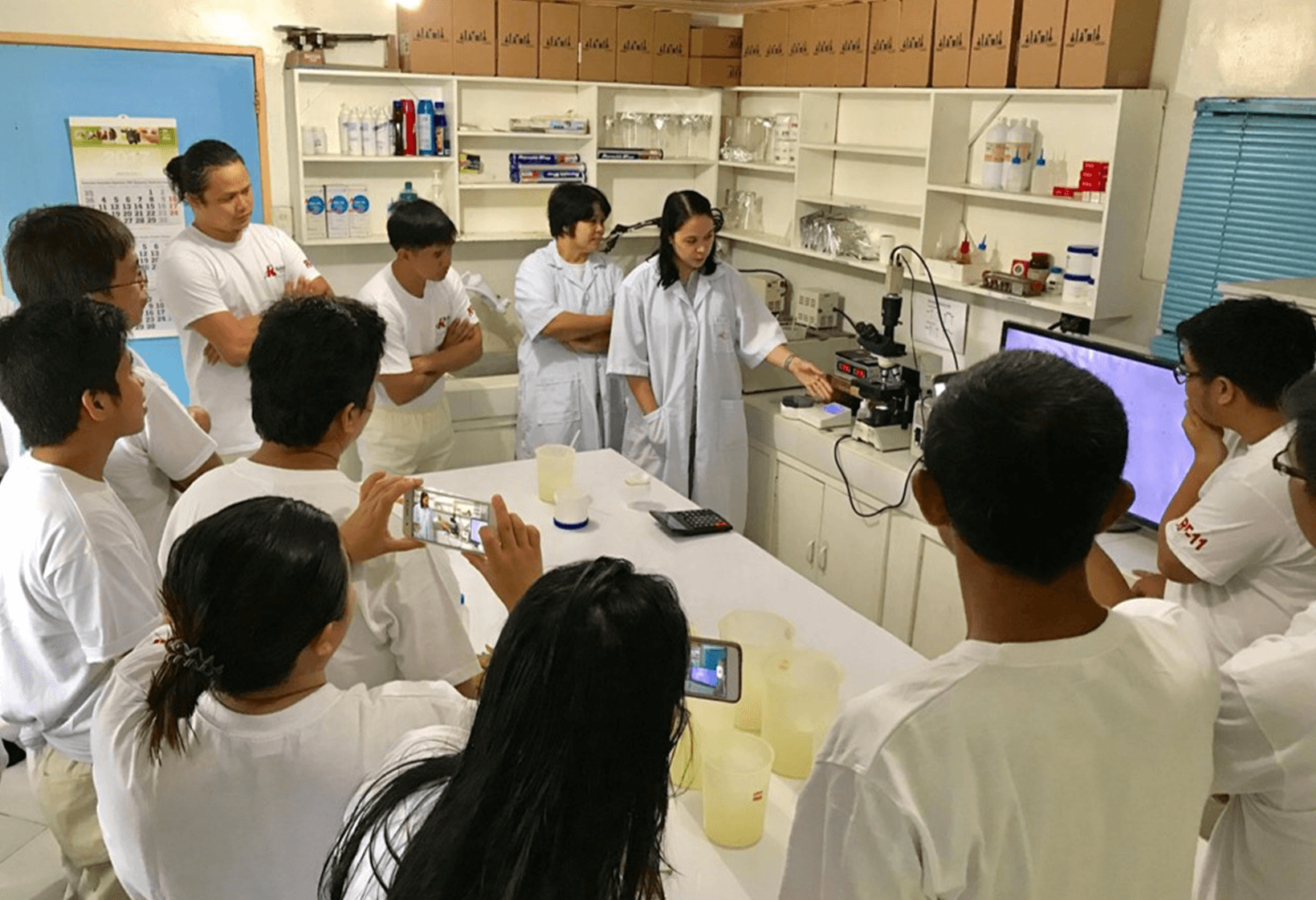 Kabalikat Programs
We have successfully expanded our Kabalikat Programs to more external stakeholders in Hogs, Gamefowl, and Hotels, Restaurants and Institutions (HRI) nationwide and continue our principle of being a "Kabalikat sa Pagunlad" that aims to develop and promote local livestock owners that are certified users and brand ambassadors. The Kabalikat program extends unparalleled services to Kabalikat partners to assist and guide them in improving their business performance. This has now evolved into a platform where both Robina Agri Partners and the Kabalikat Partner can share best practices and grow together and simultaneously learn from each other.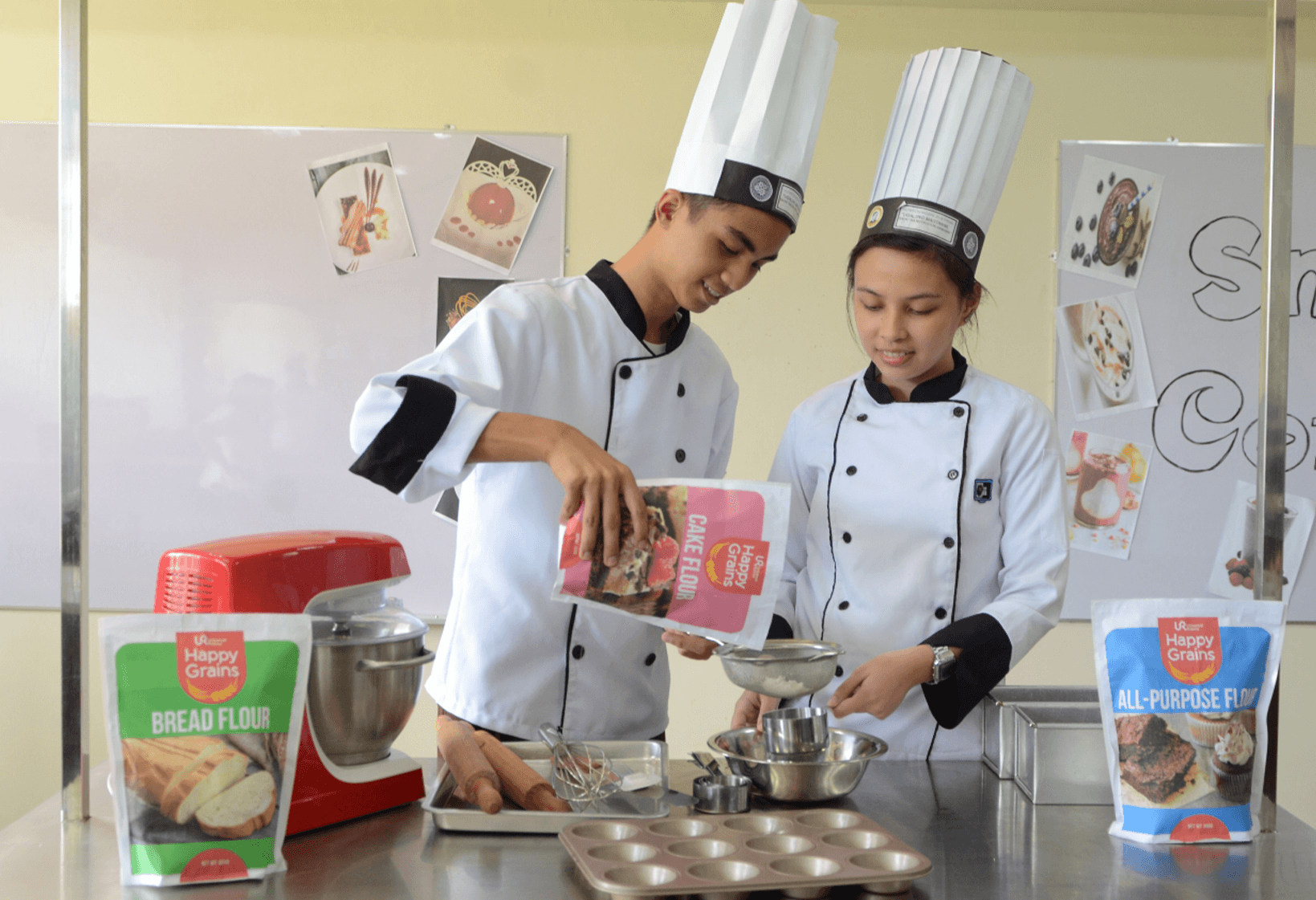 'Flour'ish Pilipinas
URC 'Flour'ish Pilipinas is a CSR program of URC - Flour and Pasta Division which aims to address the lack of effective and relevant learning materials for senior high school (SHS) students enrolled under the Bread and Pastry Production Curriculum. In collaboration with DepEd and Knowledge Community, Inc. (KCI), the program created a strategically designed multimedia teacher's toolkit, including instructional videos and recipe book, and successfully launched it to 11 public schools in Metro Manila and Davao during its pilot stage, benefitting 1,109 senior high school students in total.