Dear Shareholders,
It is an honor and privilege to take the helm of Universal Robina Corporation (URC) in May 2018. I take this responsibility with a deep respect for the decades-long success achieved by the company, an urgency to address the current challenges we face, and optimism for the abundance of growth and value creation opportunities that lie ahead of us.
URC has had a long history of success since its founding over 60 years ago and its listing as a public company 25 years ago. We have reached strong market leadership positions in Food & Beverage categories in several countries. In this decade alone, we have grown our revenue by 86% from Php 68.6 billion (2011) to Php 127.8 billion (2018) and doubled our operating income from Php 6.9 billion to Php 13.9 billion*.
However, in the last three years, our performance has declined due primarily to competitive challenges in our home market, the Philippines, and in Vietnam. We are facing up squarely to these challenges to regain our growth momentum. In addition to addressing near term challenges, URC is also embarking on a long-term transformation – from a successful founder-led company to a leading sustainable enterprise for generations to come.
Please allow me to outline the strategies and actions we are undertaking to improve on our 2018 results and deliver sustainable, profitable growth.
CY 2018 Business Highlights and Financial Results
We delivered total sales of Php 127.8 billion in 2018, a good overall growth of +2% versus last year, amidst a challenging external environment of higher input cost inflation, currency devaluations, Philippines sugar tax imposition and other excise tax increases, and a market slowdown in some countries we operate. Nevertheless, we were able to deliver growth in most of our businesses, led by double-digit growth in Agro-Industrial & Commodities products and the strong recovery of our Vietnam business.
The growth in topline sales, however, was not enough to compensate for the increase in conversion and operating costs resulting to a full year Operating Income of Php 13.9 billion*, a -7% drop vs. last year. This decline manifested almost entirely in the Philippines -- driven by lower sales volumes in Coffee, higher selling and distribution expenses to improve our customer service levels, and higher raw and packaging materials costs from higher commodities and oil derived inputs.
Despite the challenges, we continued to deliver strong cash flow and maintained a strong balance sheet. EBITDA of Php 19.8 billion funded major cash outflows for capital expenditures of Php 8.6 billion and dividends payment of Php 6.9 billion to shareholders. Ending cash balance of Php 13.0 billion and a gearing ratio of 0.48 remained in healthy comfortable positions. The net debt position of Php 26.4 billion continued to reflect primarily the long-term debt associated with the acquisitions in Australia and New Zealand.
Branded Consumer Foods (BCF) Philippines full year topline of Php 57.8 billion was flattish versus last year. Growth in core snacking, ready to drink beverages, and noodles were offset by the drag in Coffee. Operating income of Php 7.1 billion declined by -20% versus last year, due mainly to lower coffee volumes; higher selling and distribution expenses to improve customer service levels; and currency devaluation, commodities and oil-driven input cost increases.
*Operating income excludes revaluation of biological assets
International sales of Php 43.2 billion grew by +1% versus last year, driven by the recovery efforts in Vietnam and the steady growth in Australia, despite a slowdown in snack market growth rates. The operating income of Php 3.7 billion saw significant improvement of +19% growth versus last year, contributed largely from Australia, New Zealand, and Vietnam.
Lastly, our Agro-Industrial and Commodities (AIC) sales of Php 25.2 billion increased by +15% versus last year, with a growth across Feeds & Farms, Flour & Pasta and Sugar & Renewables divisions. The operating income of Php 4.8 billion increased by 5% versus last year. This was driven by higher feeds and hogs volumes, and higher sugar and meat selling prices, offsetting higher input costs in feeds, farm, and flour.
Accelerating Change in 2018
When I joined the company in May 2018, my priority was to accelerate changes to address the biggest challenges that have weighed on the business in the last couple of years. Three areas needed the immediate focus to arrest the negative impact holding us back from realizing greater potential.
1. Coffee
The continuous decline in Philippine coffee sales since 2016 required a different approach. We dedicated the second half of 2018 to embark on better consumer insight generation, fast product prototyping and heavy renovation work to improve Great Taste White's brand proposition and offerings. This paved the way for a January 2019 restage that is showing early positive results in reversing our coffee decline.
2. Distribution
There are clear opportunities to strengthen our in-store presence and expand our numeric distribution in several markets. Route-to-market reinventions were kicked off in the second half of 2018 in several ASEAN markets, with critical interventions underway in the Philippines, Vietnam, Myanmar, and Indonesia.
3. Supply Chain
Complexity in our product supply activity systems has increased our operating costs and constrained our ability to fulfill customer orders consistently. Several programs have been identified and piloted to step change our supply chain capabilities. These include the rationalization of stock keeping units (SKUs); the creation of in-country integrated supply chain organizations; a more robust sales and operations planning process; lean manufacturing practices; and a supply network re-design.
We are making good progress on these immediate priorities, and have integrated them into our strategic pillars that will enable our transformation into the leading Food & Beverage sustainable enterprise from the Philippines.
Transforming URC into a Leading Sustainable Enterprise
The URC Leadership Team have aligned on a set of long-term strategic choices that will help us transform URC from a successful founder-led company to a leading sustainable enterprise in the Food & Beverage sector for generations to come.
We use the term "sustainable" intentionally in a couple of dimensions. First, our strategies should drive "sustainable, profitable growth." While businesses will have ups and downs, our where-to-play and how-to-win choices must enable stable profit and cash flow growth. This means reversing our recent profit decline and improving shareholder value creation. Second, our strategies should support "sustainable consumption and development." This means embracing business practices that protect and enhance our natural and people resources. This will ensure that our business, our people, our consumer base, and the communities in which we live and operate will continue to thrive in a sustainable future.
In order to achieve sustainable, profitable growth, we have made specific choices in growing our core businesses while we continue to expand. These where-to-play choices are further supported by four strategic areas on how to win in the coming years.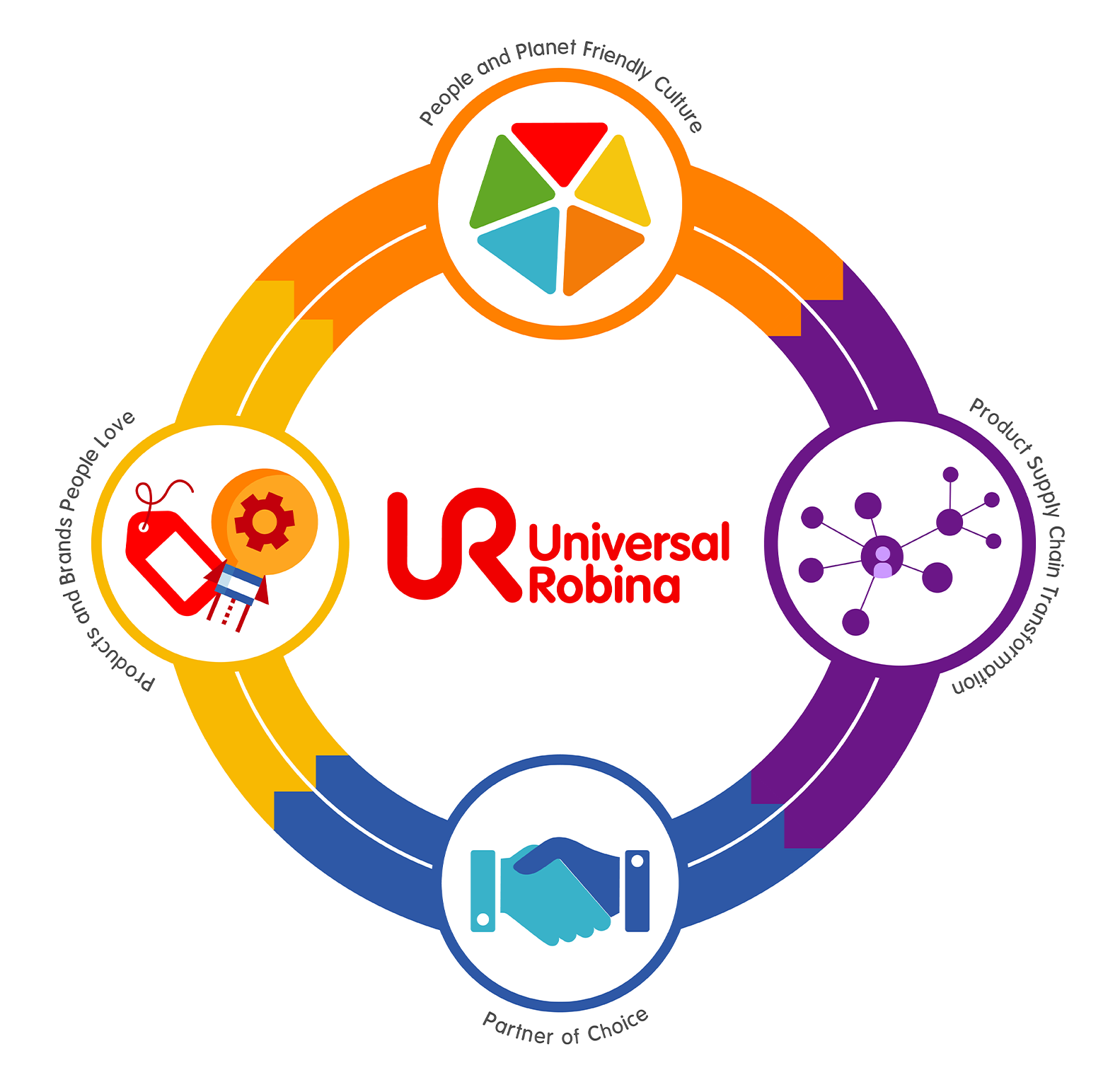 People and Planet Friendly Culture
URC has a strong foundation of good people and a positive, supportive culture. We will enhance this with talent development, digitalization, and simplification initiatives to further empower our people, expand collaboration, and build next-generation leadership. This people development pillar, together with natural resources management and product portfolio improvement, comprise the three materiality focus areas in our sustainability program. We have recently completed our baselining exercise and set targets aligned with the 2030 United Nations Sustainable Development Goals (SDGs).
Products and Brands People Love
URC has a proud history of game-changing technology-driven innovations. We will complement this with a more consumer-centric focus to increase product initiative success rate and brand building investments. We are rolling out an Innovation Process Management (IPM) system, where robust customer-centric discovery and in-sighting processes drive new product development and renovations of existing brands without compromising entrepreneurial speed and agility.
Product Supply Chain Transformation
We have significant opportunities to drive productivity, cost efficiencies and service responsiveness in our end-to-end product supply chain. We will adopt best practices to eliminate waste and optimize conversion and logistics costs. This transformation will entail leveraging our scale better in sales and operations planning, lean manufacturing excellence and supply network optimization.
Preferred Partner of Choice
Given the scale, scope, and strength of our brand portfolio, we should aim to consistently be the partner of choice to our customers and suppliers. We will achieve this by systematically engaging our trade partners in joint business planning, growth expansion, digital innovation, and capability building.
The entire URC organization stands as one, committed to executing these strategies with excellence. We are entering an exciting period of transformation, as we endeavor to build best-in-class capabilities and pivot the company to sustainable, profitable growth.
We would like to thank you, our shareholders, for your continued trust and support. We are confident that, beyond the near term profit recovery, we will be able to achieve a more consistent and well-balanced development in the years to come.
Irwin C. Lee
President & CEO