Branded Consumer Foods (BCF) is the largest business segment of URC. It has a range of strong household brands that are loved by consumers in the snacking, beverage and noodles categories. Core to our BCF business is our drive towards product innovation, consumer centric marketing and world class and cost efficient supply chain.
We participate in 4 branded super categories that continue to grow across our markets in the ASEAN and Oceania regions.
Our track record of building strong brands has made us a partner of choice. We currently have five strategic partnerships with leading international consumer companies, namely ConAgra of the US, Nissin Foods and Calbee of Japan, Danone of France and most recently, Vitasoy of Hong Kong.
BCF is composed of two divisions, BCF Philippines, its domicile market, and BCF International, a wholly-owned subsidiary covering ASEAN and Oceania markets. The group is continuing to delight the lives of consumers with products of exceptional value.
The organization recently made changes and aligned our innovation and marketing structures to be regionally focused but locally relevant. The synergy between the brand management team and the innovation group will help expand new legs and explore new categories. This step will support URC's transition from being a manufacturing-centric to a more customer-centric business as we make our investments with the intent of long-term nurturing of brands, which will drive growth in the international business.
Brand Architecture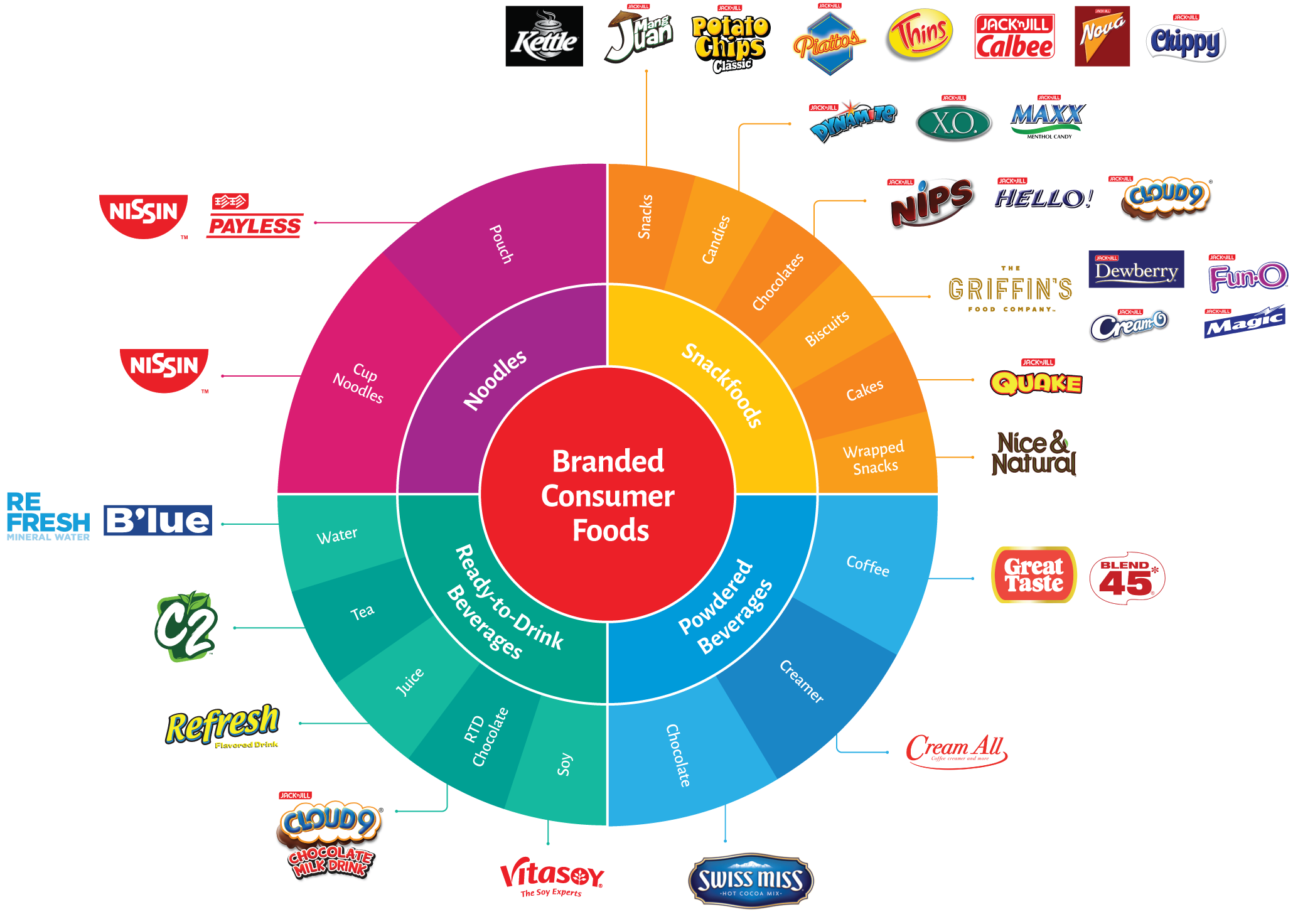 Innovation and Consumer Trends
We firmly believe that customer focus and continuous product innovation plays a crucial role for the future of the business. Consumers today are evolving and are more discerning with the emergence of new global trends in snacking and drinking . The competitive dynamics have also changed with both global and domestic players offering a wide range of choices across different product categories and channels. This requires us to be proactive and be more customer focused to gain insights that will in turn feed into our innovation portfolio management process.
As we aim to become one of the most sustainable premiere food company, we will continue to build scale by entering categories and launching our brands across the ASEAN and Oceania regions.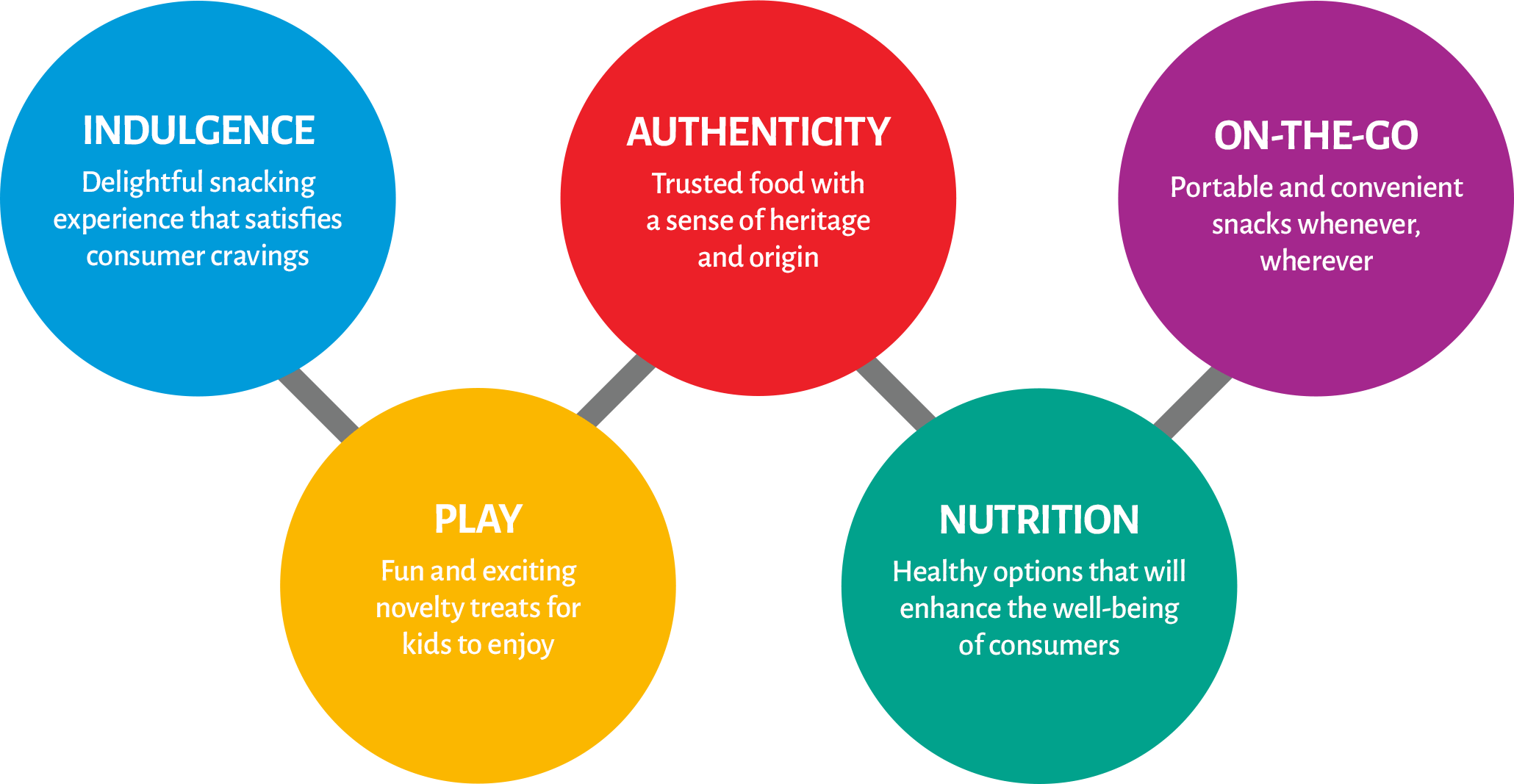 ONE URC Innovation Summit 2018
We kicked-off last November 22, our first One URC innovation summit where our executive leadership team from both BCF and AIC were present. We discussed current and future consumer trends as well as our big bets in the company, given the number of investments, we deployed in the last three years. The summit also was a venue for our R&D and marketing team to showcase new product innovation across our entire portfolio, including our strategic partners. We also asked our AIC team to present their latest initiatives and capabilities in the summit.
Best-in-class Manufacturing Capabilities
URC is committed to upholding customer satisfaction and confidence. As we continue to operate our business, we aim to promote responsible production and consumer well-being through food safety. Further, we ensure that our customers are protected at each stage of our supply chain by adopting standards set down by the International Organization for Standardization (ISO).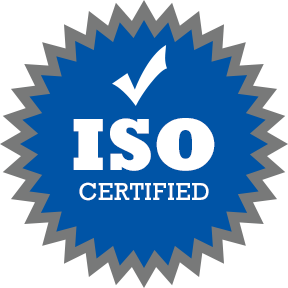 Specific certification include:

ISO 9001:2008 Quality Management System
ISO 14001:2015 Environmental Management System
ISO 45001:2018 Occupational Health and Safety Management System
ISO 17205:2005 PAO Accredited Laboratory, and
Hazard Analysis Critical Control Points (HACCP)
Aside from external certification we also ensure that internal controls are in place at each stage of the production, emphasizing audit and mitigation processes in every manufacturing facility.
Global Exports
A Global Exports business unit for total URC BCF was formed in February 2019, encompassing both URC Philippines and URC International sourced products. The regional sales organization was integrated starting April 2019, consolidating all export departments in the ASEAN markets under one global export team. This consolidation allows us to approach existing customers in over 50 countries worldwide including America, Europe, Middle East, Africa/Indian Ocean, North Asia, and Oceania/Pacific Islands markets with our complete portfolio of diverse, globally accepted quality products. It allows us to maximize our sales resources and manufacturing capabilities in order to better serve our established distributors and retail partners in existing markets, as well as to penetrate and explore opportunities in new markets.