Agro-Industrial and Commodities (AIC)
Robina Agri Partners (RAP)
URC's agro-industrial arm, Robina Agri Partners (RAP), is engaged in hogs and poultry farming. It also produces and distributes animal feeds and health products, as well as glucose and soya products. With its expertise and state-of-the-art diagnostic capabilities, RAP also provides local hog raisers a 'total agri-solution' and farm management support service.
For more information visit: Robina Agri Partners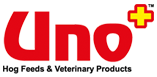 Robina Hog Farm focuses on providing clean and safe quality meat products to Filipino households, and offers state-of-the-art diagnostic capability from farm management to fabrication and retailing. All Robina Farms' products are guaranteed "No Antibiotic Residue and No Hormone Administered".
Robina Farms "Premium Fresh Eggs" is one of the leading and well-recognized branded commercial table eggs in the industry. It has been certified by the Good Animal Husbandry Practices (GAHP) and is now HALAL certified.