How To Host A Birthday Party through Streaming
Make parties e-special with these tips on how to host fun online parties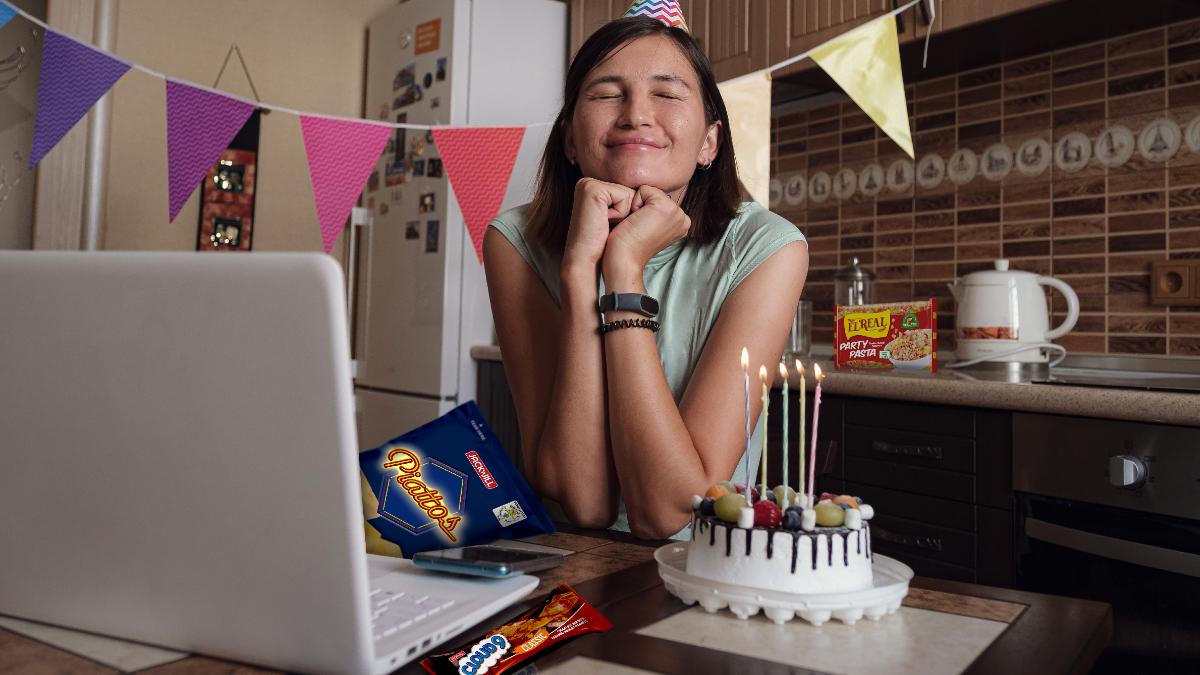 Parties are usually the time to gather family and friends to celebrate together. While the current situation is significantly different from what we're used to, that doesn't mean we have to put an end to birthday parties altogether - thanks to the wonders of modern technology.
Here are some tips to hosting fun, funny, and off-the-wall parties birthday party through Zoom, Google Meets, Microsoft Teams, or even Messenger!
Send E-invites
It can be as simple as a calendar invite or a message on Messenger, Viber, or WhatsApp. But if you want to add an extra oomph, make your own digital invitation featuring the celebrant's photo and your chosen party theme.
Pick a Theme
Just like all the best parties you've been to, themes can make things exciting and colorful. Make sure to remind your guests to dress according to theme and add decorations as well! You can even send out customized Zoom backgrounds you and your guests can use for a cute photo together!
Prepare the Celebrant's Fave Pasta
Birthday parties aren't complete without your trusted pasta dish. Whip out your El Real Pasta and your favourite sauce to make the celebration as special as it always has been. You can send out the pasta to your guests through delivery apps.
Want to make it more special? Create different sauces per guest, based on their personal preference. This can serve as a unique and customized party giveaway! This way, you can spread the Sarap-Saya to everyone invited even if you're not physically together.
Prepare Activities
Now that you've got the munchies prepared, it's time for the activities that you and your guests can enjoy together. Make sure your chosen activity is still aligned with your theme so your costumes or outfits don't go to waste. We've prepared some you can chose from:
Group Workout Session - If you're all fitness buffs, you can book a session at your favorite workout place and have a group workout class. You can choose from yoga studios, dance classes, and trainers who offer online live-streaming sessions. Then after working out, enjoy a cool bottle of C2 together — virtually.
Karaoke Night - You can't go wrong with a karaoke party! Have the host play the music and you all can belt out to your favourite songs from wherever you are. You can even dedicate a song for the celebrant and sing it all together to her. This way, it still feels like you're in your favorite karaoke place while munching on your favourite pasta together!
Game Night - Make it extra exciting by adding some games into the mix. You can go for the trusted Charades or some good old Simon Says. But if you wanna up the virtual effect of the party, go for online card games or online mystery games. Or try those online drinking games — for the more mature crowd. There are a lot to choose from when you search the web. You can even download apps! Just don't forget to grab some snacks like the barkada favorites, Piattos, Chippy, and Mr. Chips.
Chikahan Session - Make it seem like the good old days with a laid back chikahan session through video call. Reminisce your most memorable times together by bringing up past stories. Sometimes an old-fashion chikahan is already fun enough with inside jokes, secret revelations, and your all-time favorite snacks.
You don't have to take away the fun from parties even in these trying times. All you have to do is to improvise, enjoy, and serve up some real good pasta — for long life, and more fun times!