Chef Lau and Chef Jac Laudico are reinventing your favorite recipes in new cooking show
Here's everything you need to know about the web series "Eats Robina Farms."
Have you ever had crunchy pork menudo? Not only will culinary power couple Chef Rolando (Lau) and Chef Jacqui (Jac) Laudico introduce you to the innovative dish, but they'll also show you how to make it in their new web series, Eats Robina Farms.
In each episode, the two superstar chefs will teach you how to put a novel spin on your favorite dishes so that your family has fun, new ways to enjoy food together.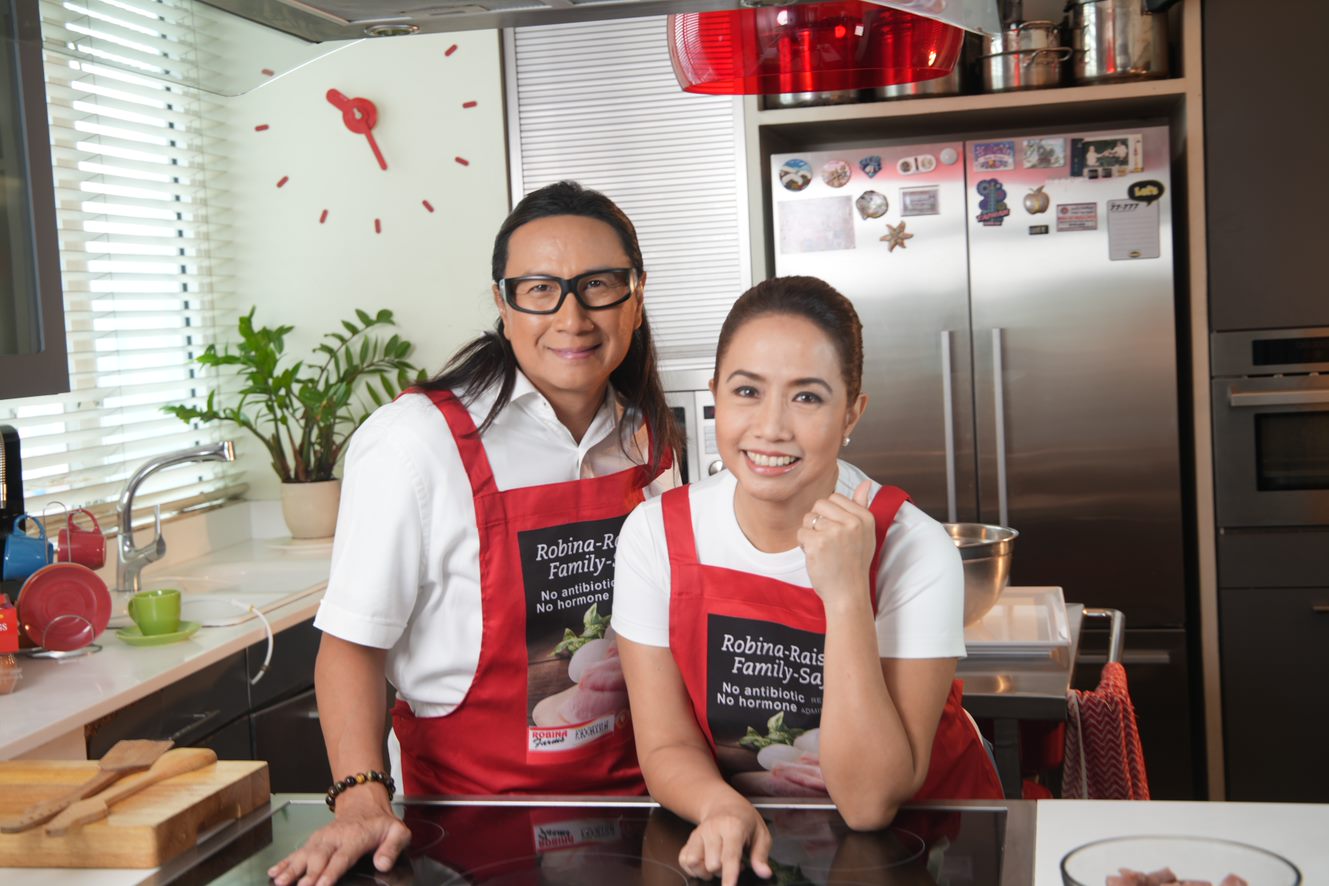 Culinary power couple Chef Lau and Chef Jac Laudico host Robina Farm's new cooking web series "Eats Robina Farms," airing on The Breakfast Lovers Club Facebook page.
"This show is about helping moms, dads, and anyone who cooks at home — to show them mga recipes na easy to do, pero mayroon na kaunting interesting twist," says Chef Lau. "I think that would really help them a lot because, siyempre, minsan yung mga kids natin, madali magsawa or are very particular, and the recipes that we do with Robina Farms, nakakagana talaga."
Jonathan Diño, marketing director for Robina Farms, shares that the idea for the show came about after the brand saw a steady increase of members in the Robina Farms Facebook Community. The show will "enhance the experience of these people as it shares not only [cooking] tips but also recipes. It is our way to further strengthen relationships within the community," he explains.
For her part, Chef Jac shares that one of the reasons they were so eager to bring the show to life was to help encourage people to cook more often. Thus, the show also comes with a lot of practical kitchen tips to make cooking easier and more fun. "Easy to do, easy to source, at the same time, appetizing at exciting, 'di ba? Medyo iba, pero alam mong when you watch it, kayang-kaya mong gawin," she says.
"Yung mga gusto mag-aral at hindi talaga nagluluto, puwede nilang subukan! It's easy to follow yung mga instructions namin," Chef Lau adds.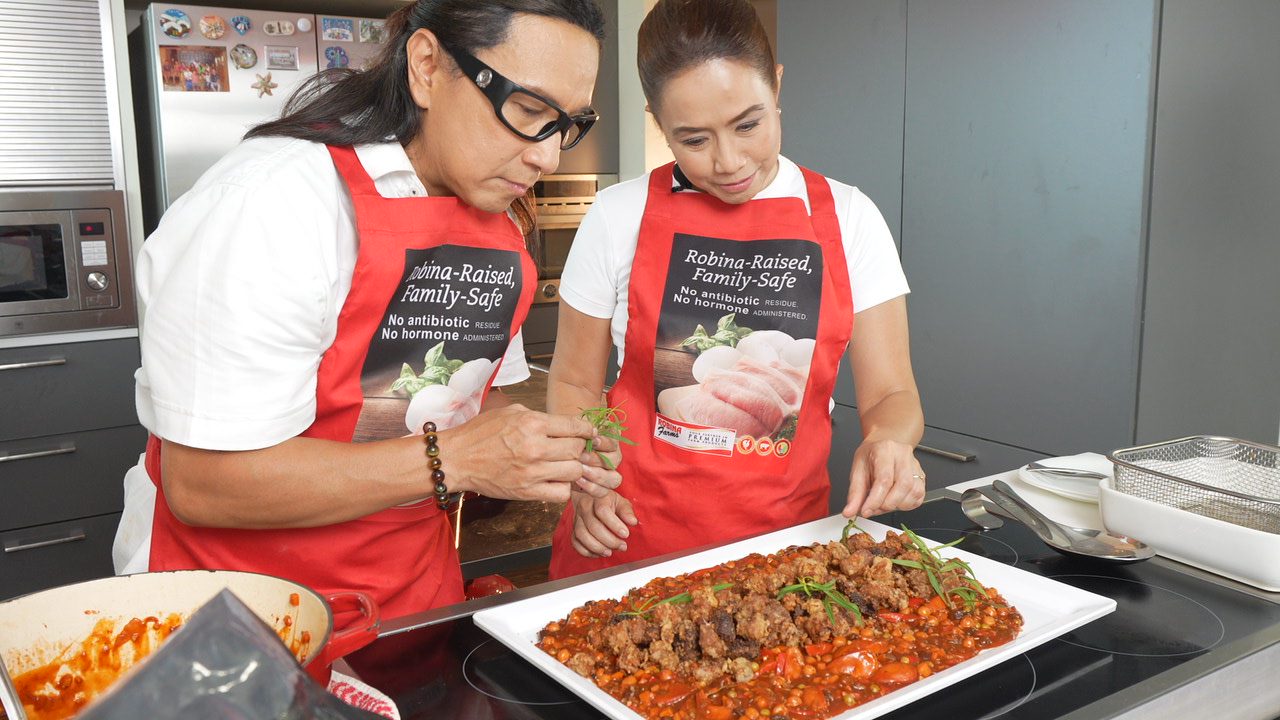 In the first episode of "Eats Robina Farms" (airing on The Breakfast Lovers Club Facebook page), Chef Lau and Chef Jac Laudico add a twist to a familiar Filipino dish with crunchy pork menudo.
Importance of high-quality ingredients in cooking
The crunchy pork menudo recipe, for example, uses simple techniques that are easy to follow and easy to prepare, thanks to Robina Farms products. The two chefs use the food brand's pork menudo cut to trim down their prep time and get results that everyone can easily replicate at home.
"Yung maganda kasi, when you use Robina Farms ingredients, consistent siya. For the pork menudo cut, naka-cut na siya ng uniform," Chef Jac shares. "The quality is really good and pare-pareho ang standard sizing nila."
"Yun yung isang passion that we really share together with Robina Farms, yung pursuit talaga of quality. We're very lucky na we're partnered with Robina Farms kasi sobrang world-class talaga yung mga ingredients nila," says Chef Lau. "It all starts sa ingredients eh. Kahit ikaw pa yung pinakamagaling na chef sa buong mundo, kung yung ingredients mo na gagamitin ay hindi high quality, it's hard to cook really good food."
This belief in the importance of high-quality ingredients is also the reason Robina Farms chose to collaborate with the Laudicos on Eats Robina Farms.
Diño says, "Chef Lau and Chef Jac are known for advocating not only food security but also food safety in their individual restaurants or the way they create menus or recipes. [And] those values are very consistent with those of Robina Farms."
Throughout the years, Robina Farms is known to be a brand that champions sustainability in food production, food security, and food safety.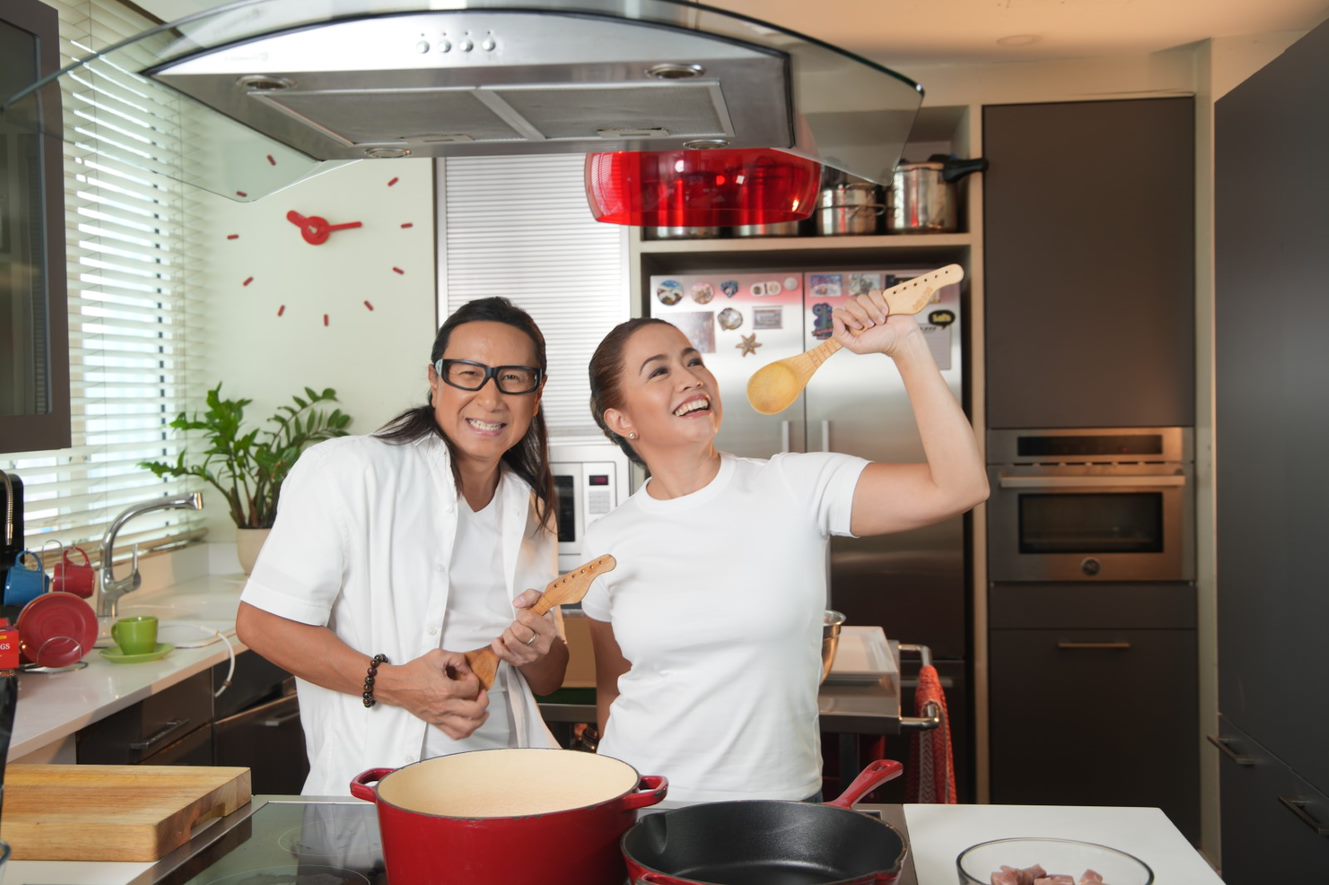 Having fun in the kitchen: Chef Lau and Chef Jac Laudico believe that cooking can be an enjoyable family bonding experience. Catch them on "Eats Robina Farms" on The Breakfast Lovers Club Facebook page.
Cooking can be a special family bonding experience
At the end of the day, it's all about creating those special moments with the family — even outside of eating. Chef Lau and Chef Jac hope that watching the show also inspires Filipino families to cook together and have fun in the kitchen.
"Cooking is actually a very fun activity. It's a bonding experience," Chef Jac says. "You all gather together in the house. You all cook, tapos because nga consistent yung mga ingredients mo, kahit hindi ka magaling, makakaya mo siyang gawin, and you'll have more core memories with your loved ones."
"We also want to encourage yung mga viewers namin to not be afraid to experiment, to be creative, to put their own twists sa food nila," adds Chef Lau. "You can always put your own personality, your own style, or your own twist to any recipe na susundan mo and that would make it more interesting and more personal kasi creation mo 'yan. Mas lalo kang magiging proud iluto 'yan at ipakain sa friends and family mo."
Diño adds: "I think the show will not only provide knowledge to our viewers but also spark creativity, especially for those people who love to cook at home. It gives them something that they can do at home that doesn't require so much sophistication or so many expenses, and that at the same time brings joy to the family."
With the -ber months in full swing, Chef Lau and Chef Jac will be helping you create those memories through family-friendly recipes on Eats Robina Farms. They've got a few surprises in store for viewers, with dishes that are both familiar and brand-new.
You can catch Eats Robina Farms by joining The Breakfast Lovers Club Facebook page. Get excited for more episodes in the coming months!